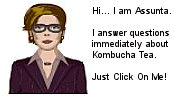 GO TO PAGE 6 of 7

1 2 3 4 5 6 7



You will find that Kombucha tea is very easy to make, and once you have a Kombucha mushroom its continuous cycle of reproduction provides you and your friends with a lifetime supply of this remarkable tea for

FREE

.




To make this remarkable tea add to water green tea or orange pekoe/black tea, sugar, a little apple-cider vinegar.

Place the culture in the tea to ferment for 7 to 9 days, strain off tea and place in the fridge to cool. We send detailed instructions sent with each order.

During the brewing (fermentation) period the Kombucha microorganisms metabolizes the sugar in the tea and as they do so cause a new Kombucha mushroom to grow across the entire surface of the tea.




The "baby" mushroom can be used to make your next batch of tea or given away to a friend. The "mother mushroom" can be reused to make additional batches of tea if you do give away the baby mushrooms.


Cost & Prices
Don't wait any longer, order your Kombucha cultures today. The cost of two cultures (with a life time replacement guarantee) is

only $22.00

plus S & H. You can order four or six cultures to share with friends at discounted prices, see order page.

It is recommended that you purchase at least two cultures, using one as a backup until you have sucuessfully brewed your 1st batch of tea, the spare culture can then be given away to a friend, but if you wish we can provide you with a single culture for only $16.00.

Order Now while it's still fresh on your mind to do so.